Vanochtend had ik een gesprek met de begeleidster van mijn eindwerk en ze was helemaal niet ontevreden, en ik eigenlijk ook niet. Het einde is eigenlijk heel goed en nog een beetje onverwacht ook. Het is geen meesterwerk, maar het moet gewoon af. Nog twintig dagen om er van te maken wat het kan worden en dan hang ik mijn pen te drogen en gaan Leandros en ik een week (!) naar Parijs. Daar slapen we in een hele leuke AirBnB, en we huren fietsen zodat we de hele week door de stad kunnen racen, en dan kunnen we naar de schilderijen van Monet en de Sacre Coeur en zwemmen in de Seine en flaneren over de Champs Elysée - en ik heb er zo'n zin in.
"I guess that from a feminist point of view, wanting to be
Scarlett Johansson
in Lost in Translation is problematic. Charlotte has no career, choosing instead to tag along after her husband. She has a vague desire to write, but she hates the things she writes, and she went through a phase where she took photos of her feet. She is a directionless heroine and her rescuer is an older man.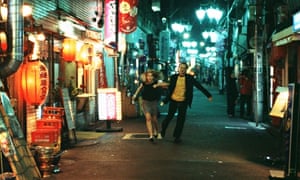 But this film is not about making a political statement; it's about how people connect and start to figure out who they truly are. So yes, I would like to be Charlotte. I want to sing
Brass in Pocket
on karaoke in a baby-pink wig. I want the freedom of an unknown city; a small girl anonymous amid the crowds under the neon billboards. I want to steal
Bill Murray
's jacket and return it to him with tears in my eyes in a hotel foyer, and all of this in the intimate soft focus of an
Aaton camera
. I want to figure stuff out and I want everything to be OK.
"Keep writing," says Bob to Charlotte. And I remembered that advice and followed it."
https://www.theguardian.com/film/filmblog/2014/aug/01/why-i-would-like-to-be-scarlett-johansson-lost-in-translation